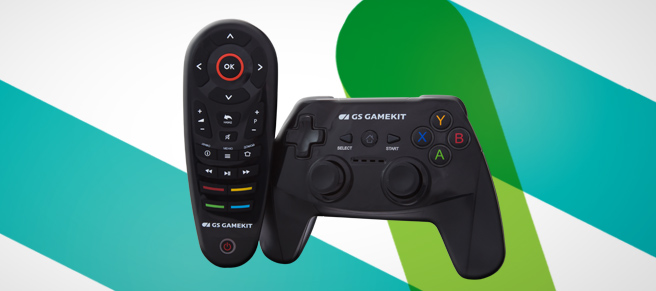 GS Group is proud introduces a concept of the new hybrid digital devices combining the functionality of a digital set-top box and game console.
The hybrid digital device elaborated by GS Group allows to play games of any genres and to watch TV channels in Full HD. Full set-top box functionality will be available for subscribers of Tricolor TV, the leading Russian digital operator. The device can be used as a game console even without subscription to satellite TV services.
According to preliminary agreements, industry leading companies, such as Creative Mobile, Herocraft and Steel Monkeys, will develop games for the new gaming platform. Users will also get exclusive cross-media projects. The first solution has been developed specifically for the new gaming platform by the television company First HDTV (part of GS Group) and the largest games development company in Eastern Europe – Sperasoft. The game titled "Real Russian Hunting" is a fundamentally new solution for the Russian gaming industry. It combines television and video games for an even deeper viewer involvement in TV content and the creation of a global gaming network. The unique cross-media project brings together traditional shooter adventures and a number of interactive options: online ratings, announcements and promo codes that will be shown on the Hunter & Fisher HD Channel.
A high-throughput central processing unit and powerful graphics accelerator provide enough capacity for the demands of modern games. Games library is constantly being refilled: new games are delivered by the satellite TV operator. Moreover, new releases can also be downloaded from the application store via the Internet.
Console technical specifications:
Powerful 4-core processor
High-throughput graphics accelerator
On-board memory support up to 128 GB
Dual-band Wi-Fi (2.4/5 GHz)
Support of 1080p (Full HD)
High-tech joypad
Modern convenient remote control board