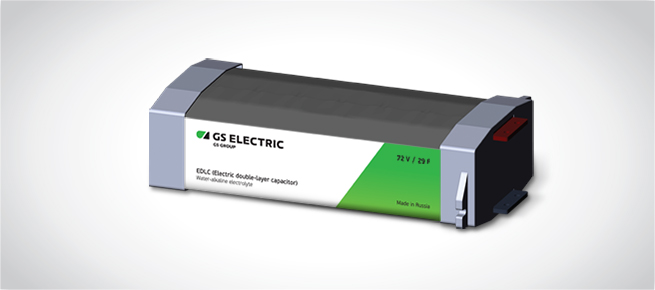 GS Group know-how has allowed creating innovative electric power storage systems with unique features:
Large capacity
These devices store more electricity as compared to similar devices. This is due to a unique nanocarbon material on which ultracapacitors are based.


Fast charging and output
GS Electric ultracapacitors are charged in lightning speed. Energy output speed is 0.3 seconds, which is 3.5 times higher than with similar devices on the Russian market.


Environmental friendliness
The ultracapacitors are safe for humans and for the environment: applied water-based electrolytes are fire and explosion proof, unlike the organic ones that are used in most devices on the world market.
Innovative systems for storing electric power are the result of many years of research and development conducted by Nanocarbon Materials (NCM), a branch of Technopolis GS.
APPLICATIONS OF GS ELECTRIC ULTRACAPACITORS:
electrical and hybrid vehicles;
enterprises and organizations that use emergency and UPS power supply (such as telecommunication companies and hospitals);
social infrastructure facilities, households and other crowded areas;
systems that generate power using renewable sources, like sun, wind, etc.;
power stations;
and many others.
By 2020 Technopolis GS will implement a beta low-level production of a line of GS Electric ultracapacitors of various capacities and uses, as well as associated equipment. GS Group is ready to invest in partnership projects with enterprises developing technologies and manufacturing equipment based on similar devices and adjacent solutions for commercializing the new line.