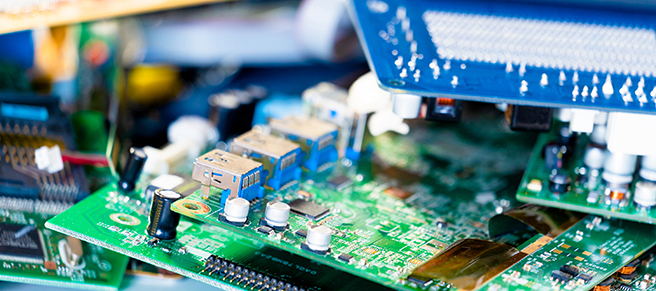 In 2015 GS Group opened an electronic waste recycling plant in Tula. Thus the holding company managed to create an eco-friendly closed-loop manufacture for production and disposal of highly recyclable General Satellite consumer electronics. The processing procedure performed at the GS Group plant minimizes the amount of waste to be buried. The streamlined production processes make it possible for some regenerated components to be used in the production of new equipment.
Tried and tested skills have allowed GS Group to expand the range of recyclable equipment and create a balanced and competitive set of services for third party customers interested in electronic waste recycling. The holding company offers:
to inventory future waste;
to execute contracts;
to account for recycled equipment using unique identifiers;
to monitor compliance with the requirements for recyclable equipment: completeness, operating performance, physical damage to individual units/blocks/components;
to certify waste disposal certificates using the form recommended by the Federal Service for Supervision of Natural Resources (Rosprirodnadzor).
Today the electronic waste plant collects, processes, and recycles no longer usable printers, scanners, multifunction printers, monitors, PC system units, keyboards, and computer mice. The plant is licensed to collect, transport, process, recycle, deactivate, and dispose of I–IV toxicity class waste.
Maximum capacity of the plant is 3.5 million units of equipment per year.