Contract manufacturing of electronics
Contract manufacturing of electronics
GS Group can provide the full range of services for the development and production of electronics of any complexity: from packaging of integrated circuits to packing the finished products. These are unique opportunities for the Russian contract manufacturing market.
DVTS offers contract manufacturing of a wide range of civil electronics, including the production of components for computer equipment.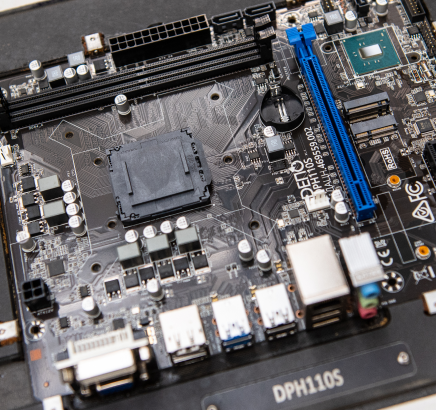 Manufacturing capacity at GS Nanotech: up to 20 million microcircuits per year
The GS Nanotech plant carries out the contract manufacturing of microcircuits. On a commercial basis, services are offered for the design and assembly of microcircuits, multichip modules and systems-in-a-case, and the packaging of microcircuits in various types of metal-polymer (BGA, LGA, QFN) and metal-ceramic cases. The result of this is that customers have access to the complete technological development of the project: from preparing the technical specification to receipt of the finished product.
Grigorii Sakharnikov
Commercial Director
Your application has been sent successfully!
Our manager will contact you shortly.